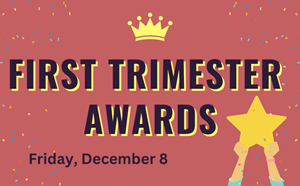 Cheer on our students who have won an award for the first trimester on Friday December 8th Times are as follow: 9:30 Grades 4-610:35 Grades 1-311:15 TK/K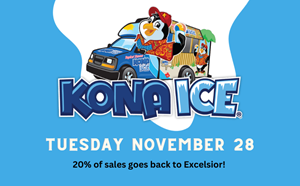 Come support Excelsior by getting some Kona Ice after school on Tuesday November 28th!
Principal's Message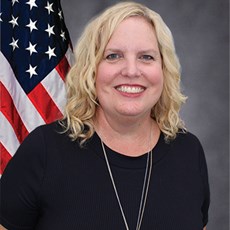 A Message from the Principal…
Dear Friends and Family of Excelsior Elementary School,
The staff and I welcome each of you to Excelsior School!  With your children as our link, we will spend the year together, growing and learning, laughing and celebrating, planning and communicating.  We look forward to an exciting and rewarding year together!  We are very proud of our students and our educational programs. We believe quality education can be achieved through strong instructional programs, a dedicated and committed staff, a strong partnership with parents, and high expectations of student performance and behavior. This enables us to achieve our vision of preparing our students to successfully contribute and thrive in a diverse society.

 Our staff is dedicated to providing a quality learning experience for students in an environment where collaboration, problem-solving, responsibility, and respect are valued.
This website is a token of our commitment to keeping an open line of communication and encouraging your involvement and participation in your child's school. We welcome your presence, comments, and questions.
We look forward to a successful and productive year.

  Thank you again for your support and involvement.
Sincerely,
Jennifer Carter, Ed. D.
Principal
Our School
Welcome Excelsior students, families, and community!
Here at Excelsior, we pride ourselves on being part of a close knit community that is working together to help students succeed.
Our school has a strong record of academic excellence as students consistently outperform the state average on rigorous state testing.  We also offer a variety of free after-school interventions and enrichment opportunities in reading, math, drama, art, and robotics.  Our new STEAM Lab called the Collaboratory fosters a fun environment for students to explore science, technology, engineering, art and math.  In this new academic environment, teachers work together as grade level teams to bring about student success. We also have 1:1 technology with teachings integrating innovative technology lessons into daily curriculum.  We are proud that Excelsior was recognized for academic success this year when we were named to the 2017-2018 California Honor Roll, a prestigious recognition that we also received in 2015 and 2016.  
Outside of the classroom, students enjoy field trips that bring learning to life in new and exciting ways.  We also have fun school-wide goals including our 1 Million Word Reading Goal for sixth graders and our 100 Mile Club for active scholars. 
We appreciate the strong support we receive from Excelsior parents.  The PTA meets monthly on Thursdays after school and works hard to hold fundraisers so that we can send all students on fields trips and bring in new exciting assemblies. Their main goal is to encourage students to work hard in school and be of good character. Parents are encouraged to come to our monthly Pastries with Parents meetings, to serve on school committees (PTA and School Site Council), and to participate in supporting classrooms and school events. We know that parent engagement is critical to student success!
We look forward to another productive school year! Please call us or visit our office for questions, comments, or concerns.